Nous pouvons vous annoncer la sortie pour la première fois ensemble en Blu-Ray & DVD de Strange et Strange too, le vendredi 08 décembre 2023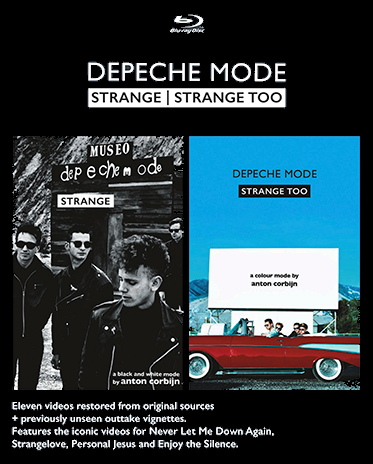 Le photographe et réalisateur hollandais a également utilisé des scènes qui n'ont jamais été vues dans les vidéos originales...
Le projet avait déjà été initié par Anton Corbijn en 2020.
La restauration (4K/HD) a été réalisée à partir des bandes Super 8mm originales.
Contenu:
STRANGE
1. A Question Of Time
2. Strangelove
3. Never Let Me Down Again
4. Behind The Wheel
5. Pimpf
Outtake vignettes:
1. Strangelove
2. Behind The Wheel
3. Behind The Wheel (Shep Pettibone Mix)
STRANGE TOO
1. Personal Jesus
2. Policy Of Truth
3. Enjoy The Silence
4. Clean
5. Halo
6. World in My Eyes
Outtake vignettes:
1. Personal Jesus (Acoustic)
2. Policy Of Truth
3. Policy Of Truth (Trancentral Mix)
Notons, qu'un livret de 16 pages avec des notes d'Anton Corbijn sera également proposé.